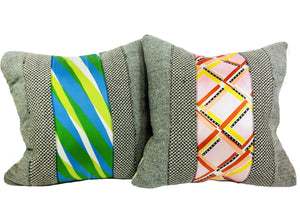 Pair of one-of-a kind pillows made from gently laundered vintage and upcycled fabric with hidden zipper closure.
Front of pillows liven up collective wool tweeds with happy and buoyant silk appliques.  Backing is neutral linen with Sarah Lois™ woven label. 
Hand selected fabric and individually designed, cut, and sewn in the USA.
Due to the vintage & upcycled fabrics and handcrafted nature, we embrace slight variations in color and design.  We do our best to reflect all features on our website.
Size: 22" X 22"
Insert: New down/feather (included)
Care: Dry-clean only
Sustainable • Cultivated Style